60 Chicano vector designs
(ID: 1912001)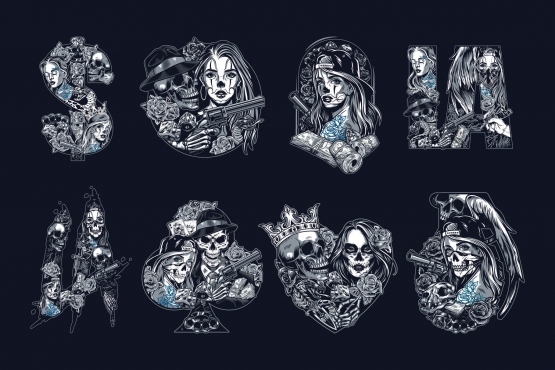 Description
The outstanding collection of "Chicano" style vector designs was created inspired by a well-known tattoo style Chicano (aka Chicana). Vector illustrations of Chicano girls, skulls, gangster and tattoo attributes were created with the finest attention to details. This graphic bundle will be perfect for t-shirt and other apparel designs, posters, printing on bags, cups, sportswear and many more. 60 ready to print vector files will make your design project unique and outstanding.
Zip-Archive contains EPS vector, JPG, PDF, PNG format files.
Advantages:
- 100% vector illustrations
- Scale any objects from the bundle to any size without loss of quality.
- Super quality. All elements have been created with care to details
- Fully compatible with Adobe Illustrator
Note: Text is not editable. Backgrounds, designs of covers and mockups are not included in the product.
Product includes:
60 designs with a limited amount of used colors. Used elements:
Chicano girls in caps, bandanas and clown style makeup, skulls, snakes, roses, brass knuckles, money, dice, angel wings, crown, gangster hat, gun, skeleton hands, diamond, dagger, heart, spades, LA, dollar sign, grenade shapes, tattoo machine, demon horns, cross, cat skull.
Please check the terms of our licenses and use one of these for suit your needs:
Personal use license
If you have any questions about this product or if you want to customize any illustrations, feel free to send us a message